How to crush the Kentucky Derby 2021 superfecta
With a 20-horse field (or close to it) every year, the Kentucky Derby consistently produces some of the biggest payouts of the racing calendar, and Kentucky Derby 2021 shapes up as no exception.
The sheer number of possible combinations in a 20-horse field ensure that the payoffs are big year after year.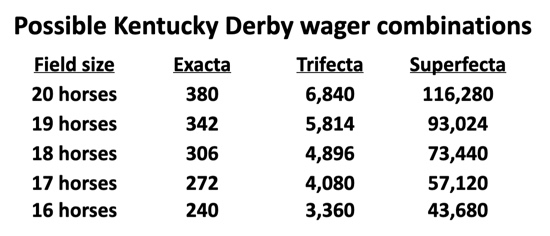 The number of possible outcomes, combined with the difficulty in handicapping a wide-open Derby, set us up for some spectacular payouts this year. Consider the average and median returns in recent years: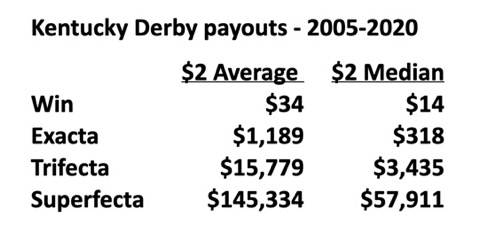 The Kentucky Derby superfecta is the big prize
With several favorites that could win this year, and as many as 14 strong targets to fill out the third-place spot, selecting the Top 4 finishers should prove elusive as ever. The reward? Massive payoffs.
In 11 of the past 16 years, the $2 superfecta has returned near the $40,000 mark or higher. The average superfecta payoff from 2005 to 2020 is $145,334, although boosted by the massive payoffs with Country House (2019), Mine That Bird (2009) and Giacomo (2005). But even the $2 trifecta averages $15,779 over that time. And the median $2 trifecta payoff is $3,435 while the median $2 superfecta payoff is still a whopping $57,911.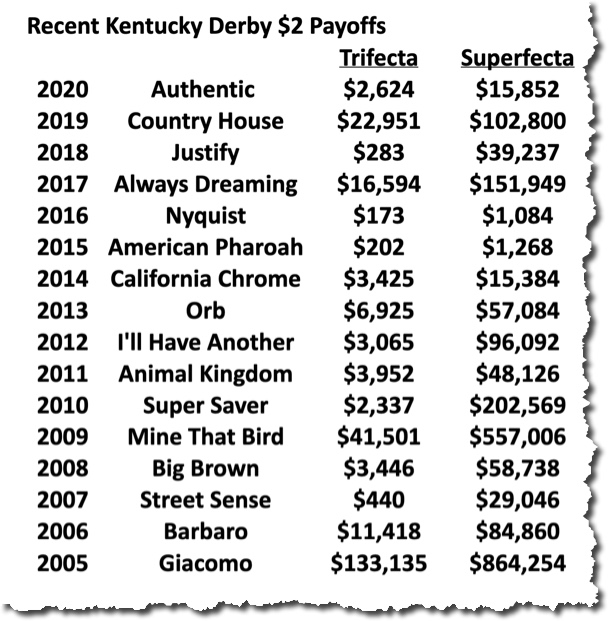 2018 superfecta results: Favorites 1-2-3, huge payoff
The 2018 Kentucky Derby was the perfect example of how the superfecta can pay huge with a result that isn't that crazy. Part of this is because of the $1 minimum wager, which makes it so hard for bettors to cover all the combinations.
Consider in 2018, here was the result:
– (1st) Justify, the favorite at odds of 2.90-1
– (2nd) Good Magic at 9.70-1
– (3rd) Audible at 7.00-1
– (4th) Instilled Regard at 85.10-1
Now, looking back in hindsight, it's hard to imagine that the Triple Crown winner Justify went off at only 2.90-1, especially when he went into the Derby undefeated. But that's what happens when there are 20 horses to bet on and all the money gets spread around.
Good Magic and Audible were top contenders, but the next five were bunched on the tote board after Justify. My Boy Jack (6.70-1) was actually the second choice in the win betting, followed by Mendelssohn (6.80-1), Audible, Bolt d'Oro (8.90-1) and Good Magic, who was the sixth choice in the betting.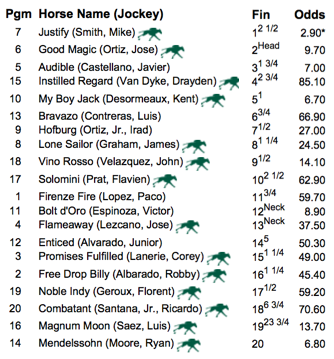 If you were considering additional contenders at the time, the next choices were Magnum Moon (13.70-1) and Vino Rosso (14.10-1).
But obviously, it was Instilled Regard in fourth that keyed the massive superfecta payout. Instilled Regard was actually the longest price on the board in a race with 12 longshots of 20-1 or higher, with 10 of those going off at odds of 37-1 or higher.
Just look at the difference in payouts in 2018:
– $2 Exacta = $70
– $2 Trifecta= $283
– $2 Superfecta = $39,237
Starting with the base of a logical trifecta outcome and including that one longshot in the superfecta was the difference between a ho-hum trifecta and a huge superfecta score.
WATCH: Three 30-1 Longshots You Can't Ignore!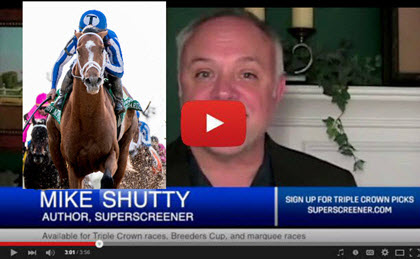 Superfecta strategy
Because handicapping a race with 20 horses is so difficult, be sure to consider trends and a proven strategy.
The Kentucky Derby Super Screener combines pace analysis and 20 other criteria in determining superfecta tickets for the first Saturday in May each year. 

Historical trends
Looking at the historical trends of the top four finishers in the Kentucky Derby, several things stand out:
– Notice the block of red squares at the top left. Speed types have won five in a row. And counting pace pressers in 2014 and 2015, that makes it seven in a row for speed or pressers. This is a recent trend. In 2016, Nyquist was the first pace type to win the Kentucky Derby since War Emblem in 2002.
– A longshot closer of 10-1 or higher has hit the superfecta 10 years in a row.
– In 8 of 10 years, closers made up two of the four spots.
– Closers take up 70% of the 3rd/4th place spots.
– Of the 40 possible spots, 10 were taken up by longshots at 20-1 or higher. Of those longshots, one was a pace horse and one was a presser, while 8 of the 10 longshots 20-1 or higher were closers.
– In every year except 2015 and 2016, at least one 20-1+ longshot has hit the superfecta (note Danzig Moon did finish fifth at 22-1 in 2015 and Suddenbreakingnews was fifth at 24-1 in 2016).
2021 pace projections
The Kentucky Derby Super Screener has projected the pace for the 2021 Kentucky Derby, and will confirm that projection once the final field is locked in.
With the defection of Caddo River, the John Sadler-trainee Rock Your World is the only confirmed pace type. However there are five presser types including Medina Spirit, Highly Motivated, Hot Rod Charlie, Mandaloun and Midnight Bourbon.
Does this set up Derby 2021 for another pace or presser winner?  Will there be enough pace for longshot closers to hit the board?  See the Kentucky Derby Super Screener for the full pace projection.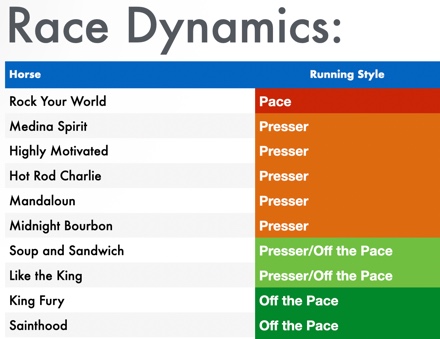 Putting your tickets together
The Kentucky Derby superfecta is one of those races every year where you have a chance at an amazing score. Churchill Downs doesn't make it easy with a $1 minimum, so if you don't have a big budget, the best way to take a shot is to get a few friends together and pool your funds. Since the super can easily pay $10,000 or more, it's something your non-racing friends can get excited about.
Then get a hold of the best information you can on which horses to bet and how to structure your tickets.  Keep reading Horse Racing Nation, and the Kentucky Derby Super Screener provides recommended exacta, trifecta and superfecta tickets for every budget.
To learn more about how the Kentucky Derby Super Screener uses historical pace, speed, cycle and trends to separate the Derby field, get your copy today.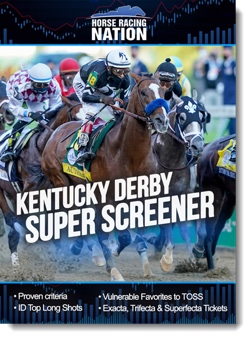 Get Your Super Screener NOW & Crush the DERBY!

Reader Testimonials

Super Screener longshot success
In 2017, the Super Screener added to its greatest Kentucky Derby scores by listing 33-1 Lookin At Lee as its top longshot. Super Screener also had 37-1 Commanding Curve as a top longshot in 2014 and 34-1 Golden Soul in 2013.
Prior Super Screener readers have done well and sent in many testimonials of their wins.
Get Your Super Screener NOW & CRUSH the DERBY!