The 30-1 Kentucky Derby Longshot You Can't leave Off Your Tickets
About the author: Mike Shutty is a co-founder of Horse Racing Nation and the author of the Super Screener Kentucky Derby betting system.  
This year's Kentucky Derby is being billed as one of the most wide-open events in years. In fact, whoever goes off as the favorite in this race…be it Omaha Beach, Roadster or Game Winner…their odds are likely to be right around 5-1. The top contenders' odds will range then between 5-1 and 10-1.

We know that in years in which the favorite goes off at odds around 5-1, huge payoffs can follow because with so much parity among the top contenders, it opens up the door for hard-to-have long shots to complete the Exotic wagers and trigger gargantuan payoffs as the following chart reveals: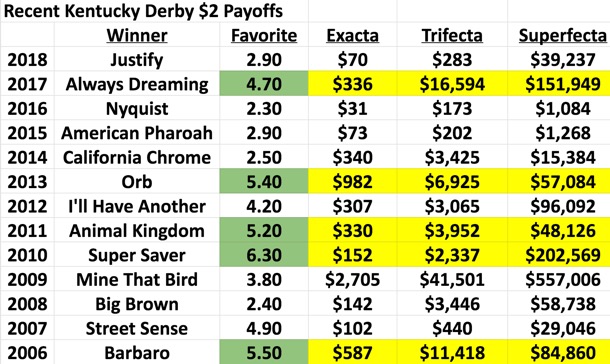 This year, it is anticipated that 13 of the 20 horses entered in the Kentucky Derby will go off at odds of 20-1 and higher. Since you can't include them all in your Exacta, Trifecta and Superfecta wagers, it is critical to efficient ticket building that you isolate the long shot bombers that have the best chance to outrun their long odds. That's exactly what the Super Screener does and why it was created.

The 2019 Kentucky Derby field has been analyzed and we are down to four long shots that have emerged from the 13 long shot candidates that have the best shot to hit the board at a huge price. One horse in that group of four that will go off at odds of 30-1 or higher that you can't leave off your tickets is Spinoff out of the Todd Pletcher barn.

While Todd Pletcher has only won the Kentucky Derby twice (Super Saver and Always Dreaming), he typically comes to this race each year with several highly regarded colts and he has hit the board with some of those charges as well. Most memorable were Invisible Ink finishing 2nd at odds of 55-1 behind the winner Monarchos in the 2001 Kentucky Derby. In 2006, Bluegrass Cat fired off huge, huge Exotics prices by finishing 2nd at 33-1. Those two horses were not on anyone's radar and Todd Pletcher in those years was clearly flying under the radar just as he is this year…which is exactly what leads to these huge prices.

Pletcher's charge Spinoff was considered one of his best 2 year-old prospects last year.

"We've always had high hopes for him," Pletcher said. "He had a little setback after the Saratoga Special, and we felt the two-turn race at Tampa was the best starting point to the path moving forward. He was so much the best in that race. He's trained like we had hoped since the Tampa race, and the timing of the Louisiana Derby is good for him," Pletcher said. "With six weeks before the Kentucky Derby, we can still run back in the Arkansas Derby, or if he runs really well on Saturday, I feel very comfortable just training him up to Louisville."

Spinoff was idle from August until January when he resumed training before scoring that knock out punch in that come-back race at Tampa Bay. But it was his Louisiana Derby effort that was most impressive as he was wide throughout staying close to a pace that quickened as the race progressed, and then finished strong to and through the wire losing narrowly to By My Standards who had the ground-saving trip advantage. Off this race, we can make a strong case for Spinoff to be included on the bottom of your Exotics tickets at a big price:
1. In the Louisiana Derby, Spinoff laid down nearly 100+ BRIS 2nd Call, Late Pace and Speed Rating figures. This is a powerful historical signal that has helped isolate the best of the many long shots in this race (and even in finding the best win contenders!).
2. By My Standards submitted similar figures but Spinoff broke outwardly from post 10 and he earned his figures while traveling over more ground than what By My Standards did. Also, this was By My Standard's fifth consecutive race since his debut so he was in prime condition and Spinoff was making just his 2nd start off a 6-month layoff…which potentially indicates more upside potential.
Watch Spinoff (#10) lose ground going wide on the first turn
3. From a form cycle analysis perspective, Spinoff is primed for another move forward given the Kentucky Derby will be just his 3rd race since August. We would like to see the gap between races at something less than 6 weeks but Pletcher prefers to give his horses lots of time between races…and it has worked. Always Dreaming won the Kentucky Derby with 5 weeks between races. Destin finished well enough off a 7-week layoff so Spinoff shouldn't be penalized too much for being away for 6 weeks. Let's see how he works leading up to the race.
4. The Louisiana Derby gets no respect and that is because it has been a long time since it has produced a Kentucky Derby Winner (Funny Cide in 2003). However, this race has produced four board hitters in the last six years including the venerable Gun Runner (3rd, 2016) and Revolutionary (3rd, 2013). And, who could forget Super Screener Top Long Shot picks Golden Soul (2nd, 2013) and Commanding Curve (2nd, 2014) who lit up the board by each finishing 2nd at odds of 34-1 and 37-1, respectively…will Spinoff add his name to this list?
5. Finally, longshot Country House offers clues as to how good Spinoff's race may have been in the Louisiana Derby. Country House has basically run the same race in his past three starts posting nearly identical speed figures. In the Arkansas Derby he was defeated by the likely Kentucky Derby favorite, Omaha Beach, by 6 3/4 lengths. Country House competed in the Louisiana Derby as well and guest what?… He finished 5 1/2 lengths behind Spinoff (6 1/4 behind By My Standards). While it is dangerous to put too much stock in this horse defeated that horse, it does put Spinoff in the same relative category as the Derby favorite.
Spinoff is just one horse with great odds that the Super Screener will be leveraging in building trifecta and superfecta tickets going after the big payoffs in the Kentucky Derby.

To learn more about how the Super Screener uses historical pace, speed, cycle and trends to separate the Derby field, get your copy now!